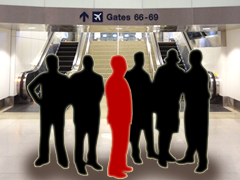 An airport employee goes between secure and insecure areas to smuggle drugs and weapons. A contract worker with airside access places explosives on an airplane. A former worker provides detailed intelligence to a terrorist organization about the inner-workings of a major airport.
The thought of an insider threat brings considerable concern to organizations operating in the aviation industry. It's not a new concept, but it's receiving rising attention today because of recent security breaches. Will airports around the world adopt full employee screening as a countermeasure?
What is an Insider Threat?
The insider threat is generally a former employee, current employee, contracted worker, or partner who misuses access to the organization's information or network systems. They pose immense risk to aviation security and are very unpredictable.
Insider threats include:
Sabotage
Theft
Espionage
Fraud
Exploitation
Tampering
Gun Smuggling Ring Exposes Airport Security Oversight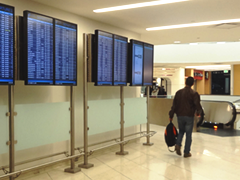 There have been incidents all around the world that have forced airports to tighten security protocols. One of the boldest incidents occurred December 2014 when a gun smuggling ring was uncovered between the Hartsfield-Jackson Atlanta International Airport and Kennedy International Airport.
Former airline employee Mark Quentin Henry smuggled firearms onto passenger flights from ATL to JFK on multiple occasions from May 2014 to December 2014 and sold the weapons illegally in New York. How did he do it? He found a gap in the airport's security protocols – current employees were not subject to screening.
Equipped with the perfect accomplice, an airline baggage handler with easy access to secure areas of the airport, Henry was able to rely on the employee to smuggle in the weapons. The two met up after Henry passed through the passenger security checkpoint to collect the firearms.
Atlanta Airport has since employed a phased-in approach to improve security protocols. Currently, bags and personal belongings are checked before allowing workers into secure areas. Random inspections have been expanded and police presence has been increased. Many access points to the airfield have been closed or further restricted. The airport plans to achieve full employee screening.
Will All Airports Worldwide Adopt Full Employee Screening?
It doesn't seem likely. Although passengers would feel more secure, full employee screening would mean a lot more time and of course, money. Employing this type of security practice would significantly impact operational efficiencies of airports and airlines.
What other options are there? Airports can make their hiring standards stricter. They can regularly provide security awareness training to staff. Random inspections can be carried out more often. Biometric scanners could be used along with badges to verify access.
Do you think full employee screening should be implemented at all airports? What alternative practices could deter insider threats? Tell us what you think.