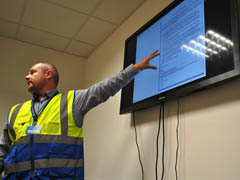 Workplace supervisors have day-to-day responsibilities they must attend to including overseeing employees, ensuring productivity is maintained, and reporting to management. Part of their duty involves coaching employees, but sometimes that role expands into a full-on trainer position.
Many companies experience this – supervisors are forced to take on additional responsibilities in order to provide employees with security training in compliance with regulations or programs such as EU 185/2010, AOSSP, IACSSP, FACAOSSP, MSP, or CCSP. When supervisors double as security trainers, they're only fulfilling a short term role so supervisors generally do not get the guidance and support needed to be successful in delivering training.
Why do Supervisors take on the Trainer Role?
Sometimes supervisors are designated as trainers intentionally. This could be due to an in-house policy where the company holds security training responsibilities to the supervisor. By not outsourcing every time training is required, companies are also maximizing cost savings over time.
Other times, supervisors are designated due to unforeseen circumstances. Most of the time, this occurs when there is an urgent need for training. A tight budget, too short of a notice, and scheduling conflicts are all factors that may contribute to supervisors getting "stuck" with taking on this responsibility.
Frequent Issues with this Approach
There are some common issues with supervisors taking on the role of trainer.
Supervisors are not certified trainers. Supervisors and trainers perform completely different roles. Instructing others requires certain skill sets and supervisors may not be well-qualified to train employees.
Coaching to prepare supervisors is rare. Supervisors are generally unfamiliar with which topics must be taught to meet compliance requirements. Also, guidance on how to deliver training sessions and how to properly use training materials is uncommon.
Training delivery is infrequent. When supervisors take on the trainer role, it's only for short period of time until training requirements are satisfied. Since training is not delivered on a regular basis, the result is inconsistent training and reduced quality.
Training is not comprehensive. Supervisors may leave out training topics due to forgetfulness or intentionally because of time constraints. When this occurs, it could put your company at risk for being out of compliance.
Suggestions for Supporting the Supervisor
We must realize that supervisors are not trainers. If we want our supervisors to tackle this role, we must support them and provide guidance in every way possible for them to deliver successful training sessions to employees.
An initial Train-The-Trainer (T3) session can teach your supervisors how to:
Setup and prepare training sessions
Deliver sessions, practical, and on-the-job training
Properly use training materials (roster, agenda, logs, etc.)
Verify all training components are complete before employees are certified
To support supervisors thereafter:
Organize a collection of videos as a reference tool on how to deliver sessions, practical, and on-the-job training
Develop job aids and checklists as additional resources
Create and make audit preparation materials available
Have all training materials updated and available from anywhere, anytime
Establish a community of support
Do you double as a security trainer in times of need in order to help fulfill compliance training requirements? What tips do you have to share? Let us know in the comments section.