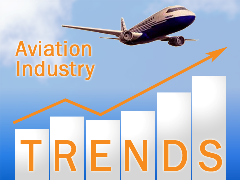 At the start of every year, experts release trends and predictions for the airline and air cargo industries. As usual, there is a lot of information floating around and it's sometimes difficult to make sense of it all. This is especially true as we look at regional anomalies that don't align with broader global trends.
Having said all that, I've conducted a little research, gathered the most interesting information, and assembled them here just for you. Let's take a look at current aviation industry trends, predictions for 2015, and advice from the experts.
Current state of the aviation industry:
The airline industry will continue to be hampered by slim profit margins, forcing carriers to focus on both cost reduction and revenue growth.

Although revenue has doubled over the past decade, profit margins remain razor thin at less than 3% overall.

Much of the revenue growth in the airline industry has been driven by low cost carriers (LCCs), which hold 25% of worldwide market share.

Air cargo traffic has been stagnant for years.
Expert predictions moving into 2015:
Airlines will continue to focus on top-line revenue growth because their limited profitability depends solely on revenue gains, while increasing productivity in order to shore up and perhaps even increase margins.

Increasing consumer expectations will require a wholesale behavioral and cultural shift within the organization for frontline, customer-facing employees.

Growing pressure to reduce costs and improve operational efficiency.

Shifting airline landscape with rapid growth in developing markets while LCCs continue with above-average growth rates.

Air cargo traffic will rebound in 2015, after three years of stagnation.

International air freight will drive overall world air cargo growth through 2033. [Figure 1]

The number of airplanes in the worldwide freighter fleet will increase by more than half during the next 20 years. [Figure 2]

International express traffic will continue to grow faster than the average world air cargo growth rate.
So what do the experts suggest air carriers do in light of these trends?
Use digitization to reduce operating costs – Employ technology to streamline operations and reduce costs.

Cut the fat, not the muscle – Be ruthless in cutting costs that are not relevant to safety, reputation, branding, or customer value.

Partner strategically – Create targeted and synergistic partnerships to fill specific gaps.
Summary

2015 trends indicate safety and profitability will be dependent on the workforce. Air carriers will look to utilize these suggested tactics in some shape or form across the entire business in order to mitigate the unfavorable trends. This means doing more with less which requires highly trained staff that are as efficient and effective as possible.
Using technology-based training tools will streamline delivery, compliance, and reporting. Look to create partnerships with companies that help satisfy aviation security training and compliance requirements on a scale that meets your business objectives.
What other interesting trends and predictions are there for the aviation industry? Share your findings with us in the comments section.
A follow-up to this blog post is available here: How Are 2015 Aviation Industry Trends & Predictions Holding Up Now?
Original Sources: