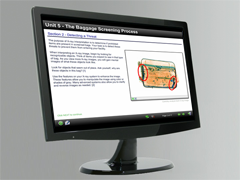 Many companies in the transportation, critical infrastructure, and ports & borders market require some form of security training. This could be to ensure safe transit systems for passengers, secure chain of custody for cargo, detect threats at security checkpoints, or prevent the smuggling of prohibited items across borders.
Whatever it may be – the trend for security training to progress along with our rapidly expanding use of technology is only natural. That's why more and more companies are comfortable turning to Computer Based Training (CBT) to fulfill their security training needs – using it alongside Instructor Led Training (ILT) or replacing it altogether.
Let's explore nine reasons why CBT has become increasingly popular over traditional classroom instruction in the training industry.
1. Flexibility
For a typical ILT session, managers must dedicate time to organize training and employees dedicate time to attend the event. Coordinating the logistics of every employee who needs training is a complicated process – working around busy schedules to find compatible training dates. All the while, day-to-day operations of the company must go on.
Using Computer Based Training, employees have increased flexibility with when they train and are able to do so when it's most convenient. Often times, this is during off-peak hours of the work day. Meanwhile, managers gain flexibility with their time. Without the burden of having to coordinate training sessions, managers can free up time to focus on running everyday operations.
2. Capacity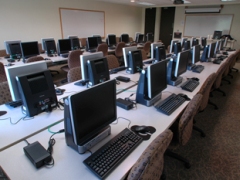 Obviously, physical classroom space is limited in its capacity. Even if ILT sessions were crammed with employees, you would have to consider how many students the instructor can accommodate before the training experience suffers.
Unlike classroom instruction, Computer Based Training is capable of training large quantities of employees simultaneously without losing out on quality. This allows more people to be trained in a shorter period of time – a welcomed advantage at companies with hundreds or even thousands of employees.
3. Reliability
We know ILT sessions take a lot of time and effort to coordinate. That's why it can become frustrating when employees are unable to attend. Last minute dropouts cause panic for managers who must find alternates to take their place. The frustration really kicks in when training sessions must be rescheduled altogether.
Once CBT is setup, you can trust that it will be there when you need to access it. Since Computer Based Training is always on and available, you don't have to worry about last minute changes or cancelations.
4. Self-Paced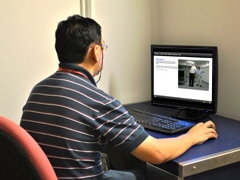 Typically, ILT is restricted by a timeframe with rigid agendas to ensure all topics are covered in a timely fashion. This often overwhelms employees with a wealth of information at once. The timeframe can also lead to uneven instruction when instructors take too long to cover a topic and are forced to rush through another section in order to compensate for time.
With CBT employees are in control of their learning, not instructors. They learn by taking in smaller modules of information which improves their retention. Employees are able to progress at their own natural pace and master concepts at an appropriate speed.
5. Consistency
Establishing consistency for training delivery can be a challenge with ILT. Although PowerPoint and agendas help establish some standardization, the risk lies within different messages or interpretations of content delivered by multiple instructors.
Computer Based Training conveys the same message to all employees worldwide. It can provide the consistency and assurance needed in a regulated environment where it is imperative that critical teaching points are covered during training.
6. Adaptability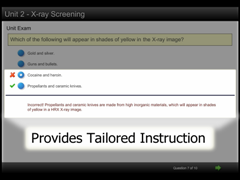 Typically, instructors must be able to assess student needs through observation, in-class exercises, and exams in order to provide coaching for individual employees. This type of instruction can be subjective and may not accurately target student needs.
Computer Based Training constantly reinforces learning by indicating incorrect actions and emphasizing correct ones. Based on training data collected and performance, CBT can determine the strengths and weaknesses of each employee and automatically provide tailored instruction.
7. Up-To-Date
Rolling out updates to employees is a demanding task when ILT is used. Changes must be reflected in training materials and accurately conveyed to all instructors. Then that information has to be communicated to employees.
When regulations of the industry change, updates to content can be applied and implemented fairly quickly using CBT. Ease of updating content within an appropriate timeframe is crucial when it involves the latest threats and procedures.
8. Automation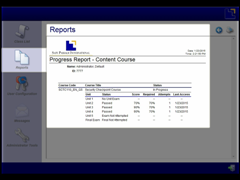 When thinking about traditional classroom training, the manual administration of paperwork comes to mind. Workbooks, exams, and training records are in hardcopy format and locating records means physically thumbing through files.
With Computer Based Training, records management is automatically integrated and certificates are electronically stored within the system. Generating training records can be easily accomplished with a few clicks of a mouse and if CBT is used on the web, they can be generated from any location.
9. Costs
There are definitely high costs associated with each ILT session delivered. Companies who hire instructors can be overwhelmed by fees for the instructor, travel, meals, lodging, training facilities, and materials that you may not have fully accounted for.
CBT is a more cost effective option per employee since there are no classroom or instructor fees to deal with. Cost savings can be substantial since Computer Based Training is scalable to the number of employees who need training – truly beneficial for larger companies.
Summary
The general perception may be that traditional classroom environments provide a better learning experience than CBT, but studies show the opposite is true. CBT improves the rate of learning and enhances retention. Total time to complete training is also shown to be reduced since CBT eliminates preparation time and breaks associated with ILT. It's no wonder why CBT is becoming increasingly popular over traditional ILT for security training.
CBT, ILT, Blended? – How does your company handle security training now? Let us know in the comments section.