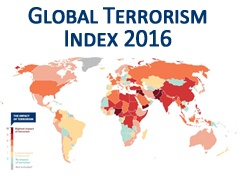 Released November 2016, the fourth edition of the Global Terrorism Index (GTI) generated by the Institute for Economics & Peace (IEP) continues to analyze key global terrorism trends and patterns for 163 countries. Raw data is derived from the Global Terrorism Database which is considered to be the most comprehensive dataset on terrorist activity, with over 150,000 terrorist incidents documented worldwide.
This most recent edition of the terrorism index puts an emphasis on a 16-year time frame beginning in 2000 through the end of 2015. As defined by the GTI, terrorism is "the threatened or actual use of illegal force and violence by a non-state actor to attain a political, economic, religious, or social goal through fear, coercion, or intimidation." Here's a summary of the latest global terrorism trends, facts, and figures.
Latest GTI Trends, Facts, & Figures
The overall global GTI score deteriorated by six percent. Since last year, 76 countries improved their GTI scores while 53 countries worsened. A deteriorated global GTI score is attributed to some countries experiencing record highs of terrorism including France, Turkey, Saudi Arabia, and Burundi.
It was the second deadliest year on record. A total of 29,376 deaths related to terrorism were recorded for 2015 – a nine-fold increase compared to the year 2000. 2014 continues to be the most deadly year on record.
Deaths from terrorism decreased ten percent. Largely driven by a reduction of deaths in Nigeria and Iraq, 2015 had 3,389 fewer deaths compared to 2014 – the first decline since 2010.


One less country experienced a terrorist attack. In 2015, 92 countries recorded at least one terror attack compared to 93 the previous year. This ends a four-year trend of increases and may highlight a shifting trend.
Terrorism is still highly concentrated in five countries. Iraq, Afghanistan, Nigeria, Pakistan, and Syria account for 72 percent of all deaths from terrorism in 2015. Every year since 2012, these same five countries have been named most affected by terrorism.
Nearly half of all terrorism incidents occurred in just four countries. Iraq, Afghanistan, Pakistan, and India experienced nearly 50 percent of all attacks. An attack does not necessarily result in death. Over 100 terror groups carried out attacks resulting in no deaths in 2015.


Four main groups are responsible for 74 percent of all terrorism deaths. The top four deadliest terror groups are ISIL, Boko Haram, the Taliban, and al-Qa'ida. In 2015, ISIL reclaimed its title from Boko Haram as the deadliest terrorist group.
Negative trends coincide with the weakening of Boko Haram and ISIL. Although weakened in Nigeria and Iraq, Boko Haram has expanded activities into neighboring West African countries and ISIL's tactics have shifted towards transnational terrorism throughout the Middle East and Europe.
More countries than ever reported their highest number of terrorist incidents. This is mainly attributed to ISIL, its affiliates, and supporters of the group being active in 28 countries, more than double the amount of countries active for 2014.
The Taliban had its deadliest year on record. In Afghanistan, the Taliban averaged four deaths per attack, killing a total of 4,502 people in 2015.
Terrorism is largely centralized in three regions. The Middle East and North Africa (MENA), South Asia, and sub-Saharan African regions accounted for 84 percent of terrorist attacks and 95 percent of terrorism deaths.


MENA region predominantly attacked by bombings and explosives. Over 70 percent of terror attacks in MENA were caused by bombings and explosives. Armed assaults and hostage-taking accounted for nearly 22 percent of MENA terror attacks.
Private citizens are targeted the most by terrorism. Although there was an overall decline in attacks on civilians as well as against the police (the second highest target), there was an increase in attacks against military and government for 2015.


The global economic impact of terrorism decreased 15 percent. The economic impact of terrorism for 2015 reached $89.6 billion USD – a decrease from the $105.8 billion USD impact recorded for 2014.
Travel and tourism suffers the most from terrorism. Between 2008 and 2014, tourism and tourism-related services such as aviation and transport contributed an average of 3.6 percent to GDP growth in countries with no terrorist attacks compared to 1.9 percent in countries where attacks deliberately targeted tourists.
Strong link between terrorism and existing conflicts and political violence. From 1989 to 2014, 93 percent of all terrorist attacks occurred in countries with high levels of state sponsored terror. Only 0.5 percent of attacks occurred in countries with no conflict or political terror.
Summary
What do you think about these latest terrorism trends, facts, and figures on terrorism? Let us know in the comments section below. If you would like to learn more about global terrorism, head to:

National Consortium for the Study of Terrorism and Responses to Terrorism's (START) Global Terrorism Database https://www.start.umd.edu/gtd/

The Institute for Economics and Peace's (IEP) Global Terrorism Index for 2016 http://economicsandpeace.org/wp-content/uploads/2016/11/Global-Terrorism-Index-2016.2.pdf