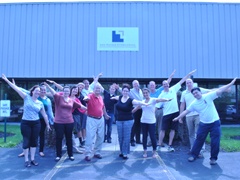 Happy National Aviation Day! We know most everyone is impacted by aviation in some way, shape, or form. It has become such a big part of our lives. That's why today celebrates the rich history and development of aviation.
The date August 19th was selected as National Aviation Day because it holds special meaning. It coincides with Orville Wright's birthday. Orville and his brother, Wilbur Wright, were credited with building the first successful airplane with aircraft controls to steer the plane.
Since then, many achievements have been made by people all over the world. Oceans were crossed, aircrafts were built, engines were invented, and many flights were flown - all milestones contributing to modern aviation. No one can deny that today's aviation industry has come a long way to expand uses for aviation, advance technology and equipment, and enhance safety and regulations.
The aviation industry makes air travel a reliable form of transportation for people and goods. It allows us to do more than we could ever imagine. We are extremely proud to work with so many different companies in the aviation industry by providing security training programs and services.
Thank you to all who have made aviation possible!