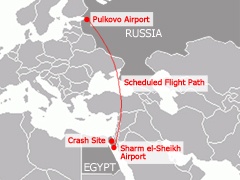 Sadly, another air tragedy has struck. Nearly two weeks have passed since Metrojet Flight 9268, an Airbus 321 jetliner, crashed in the Sinai Peninsula. The plane was headed from Sharm el-Sheikh, Egypt to St. Petersburg, Russia when it came apart in the sky shortly after takeoff, killing all 224 people on board.
Although the incident is still under investigation, speculations are coming in regarding its fate. Could it have been an equipment malfunction since major repairs were done to the aircraft years earlier? Could it have been a technical issue unrelated to the repairs? Or could it have been a bomb planted there intentionally by ISIS affiliates?
What Happened to Metrojet Flight 9268?
With the passing of time, it is increasingly beginning to look like an intentional sabotage was planned on Flight 7K9268. Both British and American intelligence experts believe this due to intercepts of communication from the ISIS affiliate in Sinai to ISIS operatives in Syria. These monitored communications occurred after the crash and have led intelligence to believe a bomb was involved.
In fact, the terror group in Sinai has publicly claimed responsibility for downing the passenger aircraft through a video posted on Twitter, but has refused to elaborate on the motive or how it was done. Because of this, some question the validity of their claim and want answers based on facts and forensic evidence. Unfortunately, it may be months before a formal conclusion is made.
Many Unanswered Questions
If it turns out that an improvised explosive device did indeed take down Metrojet Flight 9268, there are many questions to be asked.
Was the explosive device missed during cabin or hold baggage screening? Or was it simply placed there just moments before the plane took off? At what stage did the security breach occur? Was there an insider threat helping to carry out the deed? If so, who is this insider threat and what type of access did they have?
Summary
All airports need to take a second look at their security and internal processes. Adjustments should be made on an ongoing basis to strengthen any security gaps.
As for Sharm el-Sheikh International Airport, if this air incident turns out to be a deliberate act of terrorism, the airport will face considerable scrutiny. Drastic changes will have to be made to reduce future risk and traveler confidence will need to be restored.
What do you believe happened to Metrojet Flight 9268? Let us know what you think below.