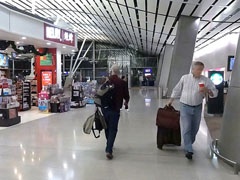 Airports operate multiple checkpoints for the different items and people passing through. These checkpoints aim to keep threats, drugs, and prohibited items out of secure areas. Perhaps the most recognizable airport screening checkpoint is one experienced by travelers firsthand – the passenger screening and cabin baggage screening (CBS) checkpoint. This checkpoint processes millions of passengers daily and as a result, collects a fair amount of prohibited items. Let's examine some commonly confiscated items seized by airport security at the passenger checkpoint.
Liquids, Aerosols, & Gels (LAGs)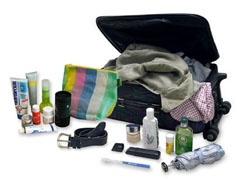 Many airports restrict the amount of liquids, aerosols, gels, creams, and pastes a passenger can bring into the sterile area. If the total amount of LAGs you have in your carry-on exceeds quantity limits, part of it may be confiscated. If the container for your LAG is larger than the allowable size, it may also be confiscated.
For the most part, the types of LAGs seized here aren't too serious in nature. It may be someone's morning cup of coffee, bottled water, toothpaste, lotion, or perfume. Sometimes it's duty free alcohol where the secure bag has been tampered with or the original paperwork is missing.
Knives & Sharp Objects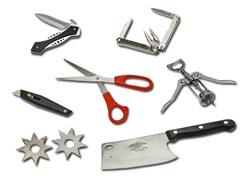 Knives and sharp objects are prohibited items that get confiscated often. Seizures of multi-tools, folding pocket knives, scissors, corkscrews, box cutters, and safety razors are typical. Tools over a certain size length are prohibited as well.
Often times, passengers claim they forgot about a knife or sharp object placed in their carry-on baggage. Other times the sharp objects are so obvious that it is inconceivable a passenger could simply forget it was there. Examples of real attempts include kitchen cleavers, machetes, hatchets, throwing stars, and swords.
Firearms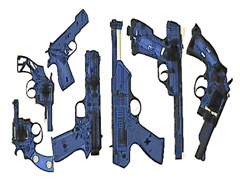 Firearms are prohibited in carry-on luggage or concealed on a person, but it may surprise you how often they are found. Just in the United States alone, the Transportation Security Administration (TSA) experienced a 20% increase in guns discovered by agents in 2015 from the previous year. More often than not, these weapons are found fully loaded.
Those caught with a firearm or firearm components at the passenger checkpoint may be arrested and/or face fines. If traveling with a firearm is necessary, keep it properly secured in checked baggage and be sure to declare it to the airline at check-in.
Explosives & Flammables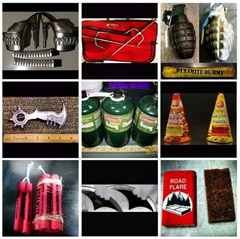 Going along with the previous category is firearm ammunition, which is also banned from flying with you in your carry-on baggage. Other prohibited explosives and flammables include gun powder, fireworks, spray paint, lighter fluid, and flares – some of which are known, real-life examples of contraband travelers have tried to take onboard.
Realistic Replicas & Novelty Items
Novelty items and realistic replicas of prohibited items can also get you into trouble. Anything that looks like or mimics a weapon will be seized. Replicas of guns, grenades, bombs, and knives are barred from being brought onto an airplane.
Conclusion
Airport security screeners process large volumes of people and baggage every day. Their goal is to find weapons, explosives, and potentially dangerous items and prevent them from entering secure areas. When prohibited items are uncovered, security agents are required to confiscate it. If you are traveling, know what you can and cannot pack inside carry-on baggage before arriving at the airport. The TSA offers the Can I Bring app if you could use some guidance before your next trip.