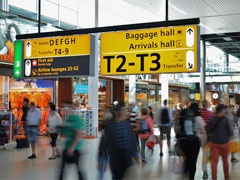 I recently attended an aviation security conference in Dublin, Ireland. The speaker panels were well organized and the topics were very relevant in view of the many threats commercial aviation must mitigate. However, there was a common theme flowing through the conference that stuck with me perpetrated by the International Air Transport Association (IATA) who sponsored the event. That theme is simply this – IATA is all about the passenger experience.
I understand this conviction, but all of the focus from IATA was on regulatory hurdles, airport facility issues, and redundant security. In my personal experience, having traveled almost 1 million miles on American Airlines alone, I find these are the least frustrating to me. For me the experience from the time I arrive at the airport until I board the plane and then again when I leave the plane until I leave the airport is far less stressful than my time on the plane.
An Experienced Traveler
Seasoned travelers know how to cope with the realities of the airport. Personally, I fly through airports that have the amenities I'm looking for. Through airline loyalty programs and the Global Entry program, I find it quite easy to get through security. Coming back home to the US, I rarely need to wait in line at immigration as the Global Entry lane is fast. It also makes clearing customs quicker as well.
While waiting for flights (either on time or delayed) I am able to take advantage of the various business and first class lounges through a program called Priority Pass. It provides me access to lounges in many different airports and countries. In all the lounges I have visited through this program, they offer free Wi-Fi, comfortable seating, free food and beverages, and in many cases showers.
My Comical Flight Experience
My flight departing the IATA sponsored event was a comical and ironic experience given the core theme of the conference. On the flight from Dublin to New York on a US flagged carrier, I was on standby for business class because it was a full flight. I was asked to wait in gate area and if a seat opened up I was number one on the list. Sounded promising. So instead of going to the lounge, I waited in the gate area for news about my request.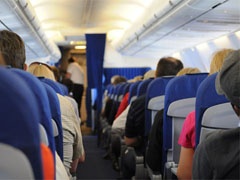 Soon they began to board the plane by group. I continued to wait in anticipation of getting lucky with a business class seat. I waited until there were only a handful of passengers left to board the aircraft. At that point I thought I better go and find out my fate. When I asked the agent at the gate if she had news, I was told that business class was sold out and that I should not have been put on the standby list. As you can imagine, my passenger experience was beginning to go downhill.

I boarded the plane and headed for my seat. Being the last passenger to board the aircraft meant there was absolutely no room in any of the overhead bins for my carry-on briefcase. As I looked up and down the aisles at the overhead bins, I found it ironic that they all appeared to be filled with large roller bags, clearly larger than what is allowed. The flight attendant was helpful and found space in an overhead bin - about 25 rows back and told me I could collect it after takeoff.

Now I am settled in and we take off. Shortly after takeoff the flight attendant announces the movies available on the entertainment system. I dig my ear buds out of my pocket, snap in, and turn on the system. It's a touch screen operated system but low and behold my touch screen does not work. No surprise the response from the flight attendant is that it will get reported to maintenance. Now, I get to spend the next seven hours without any entertainment. My passenger experience continues downhill.

Lunch service is now coming through the aisle. The flight attendant announces three selections: chicken, pasta, or vegetarian. When it is my turn I find out that there is only one option left. So much for variety. After the tray is set down in front of me, I find that I am competing with my neighbor for the 1 ¾" arm rest that separates us. We end up bumping each other's tray and his scotch and soda spills onto my leg. At this point, I can't really imagine it getting worse.

But wait. It does. When the meal service was cleared, I asked the flight attendant if she could retrieve my bag so I could do some work. After all, without an entertainment system what else was there to do? She informed me that she couldn't go back and get it because she was helping other passengers. And because the fasten seat belt sign was on, she said I would be able to get it myself once the captain turned off the sign. As I peered straight ahead and contemplated my passenger experience dissent, I saw several passengers in the business class cabin up and moving about. Some were opening overhead bins. Others were using the lavatory. The fasten seat belt sign was still illuminated.

At that point I decided to end the misery and get some sleep. As I stared at the fasten seat belt sign hoping beyond hope that it would turn off, I fell asleep. My passenger experience had hit rock bottom. The one single element the airlines actually have control over is the time we spend on their planes. It always amazes me how poor that experience tends to be.

Do you have any similar experiences? What do you feel is the worse part of the passenger experience? Give us your thoughts below.