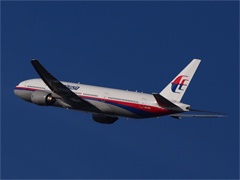 Last week we learned about the flaperon that washed ashore at Reunion Island. The wing fragment was sent to France for official examination by an international team of experts. The world waited eagerly to find out whether or not the recently discovered aircraft debris came from Malaysia Airlines Flight 370.
Now 17 months after MH370 initially went missing, we finally learn of its fate. MH370 tragically crashed into the Indian Ocean. Sadly, we still do not know where the body of the aircraft lies or why it crashed. There are still many unanswered questions.
Physical Evidence
With 239 people on board, Malaysia Airlines Flight 370 vanished on its way from Kuala Lumpur to Beijing in March of 2014. The aircraft inexplicably veered off course and went missing. Its disappearance launched a massive hunt in the Indian Ocean based on satellite data indicating MH370's possible flight path with hopes of finding the missing jetliner.
Just over 24 hours ago, Malaysian Prime Minister Najib Razak confirms, "...the aircraft debris found on Reunion Island is indeed from MH370. We now have physical evidence that, as I announced on 24th March last year, flight MH370 tragically ended in the southern Indian Ocean."
French Prosecutors announced in a press conference that it was a "very high probability" the fragment came from the missing aircraft. The flaperon was confirmed as coming from a Boeing 777, which matches MH370's aircraft type and no other Boeing 777s are known to be missing in the area.
Questions Remain
Although this key piece of physical evidence provides some insight into the mystery of MH370, it does not provide the full picture many family and friends of victims seek.
Further examination of the flaperon could reveal how the piece detached from the plane – whether it came off due to impact with the ocean or if it came off before impact. Testing on the debris could show traces of an explosion or fire if it occurred. Inspection of other debris collected from Reunion Island may reveal more clues about what happened to the plane or link personal belongings to victims.
Summary
Without more concrete evidence such as the black box, one can only speculate what happened to MH370 and the people aboard. Was there an insider threat that deliberately diverted the aircraft? Was there an explosive, such as an improvised explosive device that went off and took down the plane? Was there a system failure or equipment malfunction?

Unfortunately, it may be a while before the mystery of MH370 is completely solved. We wait anxiously to see how the investigation progresses and what other connections can be made to the missing aircraft.

What do you think about the mystery of MH370 and the recent flotsam discovered at Reunion Island? Let us know your thoughts.